Sam Simmens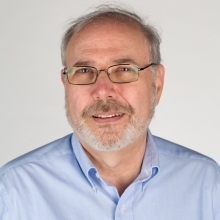 Sam Simmens
Research Professor
---
School: Milken Institute School of Public Health
Department: Biostatistics and Bioinformatics
Contact:
Office Phone:
202-994-7887
Science & Engineering Hall
800 22nd Street, NW
Washington DC 20052
Professor Simmens describes himself as a "generalist" applied biostatistician.  He has particular interest in applying statistical methods to the social and behavioral components of public health research. As a faculty member, he encourages his students to maintain a generalist perspective regardless of how specialized they become, with an emphasis on combining statistical knowledge, computing, knowledge of the substantive area of research, and problem-solving skills. As a researcher, he collaborates with colleagues in all of the health-related fields, applying his skills to research on HIV, cancer, obesity, mental health, maternal and infant development, chemical and stress-related environmental exposures, and numerous other health issues. As director of the Biostatistics and Epidemiology Consulting Service (BECS), Dr. Simmens oversees a statistical consulting service that provides comprehensive biostatistical support--including data management, biostatistical and epidemiological expertise and grant development--to all faculty at The George Washington University. Dr. Simmens is a Co-core Director of the Clinical and Population Sciences Cores of the DC Center for AIDS Research and Co-lead of the Biostatistics, Epidemiology, and Research Design module of the Clinical and Translational Science Institute at Children's National.  Dr. Simmens has been providing consultation services to researchers at GW for nearly 3 decades.
---
Biostatistics
Epidemiology
HIV/AIDS
Program Evaluation
Master of Arts (Community Psychology), New York University, 1979
Doctor of Philosophy (Community and Quantitative Psychology), New York University, 1984
PubH 6258, Seminar in Biostatistical Consulting
PubH 6283 and PubH8283, Biostatistics Consulting Practicum
Professor Simmens has served as a reviewer for academic journals and both GWU-based and outside grant review committees.  He also currently serves as a member of data and safety monitoring committees.
A sampling of recent collaborative research areas:
Testing interventions for obesity in young adults
Disentangling the role of environmental, pre-natal, and genetic factors in childhood obesity
Assessing effects of HIV on high density lipoproteins
Evaluating instructional design strategies for graduate medical education
Understanding factors connected to public health department social distancing policies for infectious diseases
Understanding factors connected to the use of science in climate change litigation
Evaluating a smoking reduction program
Recent publications and a sampling of older publications
Freeborne, N., Simmens, S.J., Manson, J.E., Howard, B.V., Cené, C.W., Allison, M.A., Corbie-Smith, G., Bell, C.L., Denburg, N.L., & Martin, L.W. (2019). Perceived social support and the risk of cardiovascular disease and all-cause mortality in the Women's Health Initiative Observational Study: Menopause, 26(7). https://doi.org/10.1097/GME.0000000000001297.

Katz, R., Vaught, A., & Simmens, S.J. (2019). Local Decision Making for Implementing Social Distancing in Response to Outbreaks. Public Health Reports. https://doi.org/10.1177/0033354918819755.
McCormick, S., Glicksman, R. L., Simmens, S. J., Paddock, L., Kim, D., & Whited, B. (2018). Strategies in and outcomes of climate change litigation in the United States. Nature Climate Change, 8, 829–833. 
McCormick, S., Simmens, S., Glicksman, R., Paddock, L., Kim, D., Whited, B., & Davies, W. Science in Climate Litigation: The Third Branch of Climate Policy in the United States (2017).  Science, 357(6355):979-980. doi: 10.1126/science.aao0412. Epub 2017 Sep 7. PubMed PMID: 28883064.
Napolitano, M. A., Whiteley, J. A., Mavredes, M. N., Faro, J., DiPietro, L., Hayman, L. L., Simmens, S. (2017). Using social media to deliver weight loss programming to young adults: Design and rationale for the Healthy Body Healthy U (HBHU) trial. Contemporary Clinical Trials, 60, 1–13. https://doi.org/10.1016/j.cct.2017.06.007
Kurtzman, E. T., Barnow, B. S., Johnson, J. E., Simmens, S. J., Infeld, D. L. and Mullan, F. (2017), Does the Regulatory Environment Affect Nurse Practitioners' Patterns of Practice or Quality of Care in Health Centers?. Health Services Research, 52: 437–458. doi:10.1111/1475-6773.12643.
Fu, S. W., Kirolikar, S. P., Ginsburg, E., Tan, X., Schwartz, A., Simmens, S. J., Man, Y.,  Pinzone, J. J., Teal, C., Awate, S., Vonderhaar, B.K., & Berg, P.  (2016). Beta protein 1 homeoprotein induces cell growth and estrogen-independent tumorigenesis by binding to the estrogen receptor in breast cancer. Oncotarget, 7(33), 53201-53216.
Boal AL, Abroms LC, Simmens SJ, Graham AL, Carpenter KM. (2015). Combined Quitline Counseling and Text Messaging for Smoking Cessation: A Quasi-Experimental Evaluation. Nicotine & Tobacco Research. doi: 10.1093/ntr/ntv249

Siegel, M. O., Borkowska, A. G., Dubrovsky, L., Roth, M., Welti, R., Roberts, A. D., Parenti, D.M, Simon, G.L., Sviridov, G., Simmens, S., Bukrinsky, M.,& Fitzgerald, M. L. (2015). HIV infection induces structural and functional changes in high density lipoproteins. Atherosclerosis, 243(1), 19–29. http://doi.org/10.1016/j.atherosclerosis.2015.08.036

Ahlgren, J., Patel, N., Simmens, S., Akin, E., Bishop, C., Kirkel, D., Siegel, P., Schuck, S., Guebre-Xabiher, H., & Siegel, R.   (2014).  O-MAX Chemotherapy: High Activity in Metastatic Esophagogastric Adenocarcinoma and Possible Relation to Subclinical Hemolysis.  Oncology. 87:371-380 (DOI: 10.1159/000366425)  http://www.karger.com/DOI/10.1159/000366425.

Abroms, L. C., Boal, A. L., Simmens, S. J., Mendel, J. A., & Windsor, R. A. (2014). A Randomized Trial of Text2Quit. American Journal of Preventive Medicine, 47(3), 242–250. doi:10.1016/j.amepre.2014.04.010

Young, H.A., Maillard, J.D., Levine, P.H., Simmens, S.J., Mahan, C.M, & Kang, H.K. (2009).Investigating the Risk of Cancer in 1990-1991 US Gulf War Veterans Using State Cancer Registry Data.Annals of Epidemiology, 20, 265-272. doi:10.1016/j.annepidem.2009.11.012

Levine, P.H., Richardson, P.K., Zolfghari, L., Cleary, S.D., Potolicchio, S., Geist, C.E., Young, H.A., Simmens, S.J., Schessel, D., Williams, K., Mahan, C.M., Kang, H.K. (2006). A Study of Gulf War Veterans with a Possible Deployment -Related Syndrome. Archives of Environmental and Occupational Health, 61(6):271-288.
Zook, B.C., &  Simmens, S.J.  (2006).  The Effects of pulsed 860 MHz radiofrequency radiation on the promotion of neurologic tumors in rats.  Radiation Research, 165, 608-615.
Warren, S. L., Gunnar, M. R., Kagan, J., Anders, T. F., Simmens, S. J., Rones, M., Wease, S., Aron, E., Dahl, R. E., & Sroufe, L. A. (2003). Maternal Panic Disorder: Infant Temperament, Neurophysiology and Parenting Behaviors. Journal of the American Academy of Child & Adolescent Psychiatry, 42, 814-825.

Ginexi, E., Weihs, K., Simmens, S.J., & Hoyt, D.R.(2000). Natural Disaster and Depression: A Prospective Investigation of Reactions to the 1993 Midwest Floods. American Journal of Community Psychology, 28, 495-518.

Kimmel, P.L., Peterson, R.A., Weihs, K.L, Simmens, S.J., Alleyne, S., Cruz, I, & Veis, J.H.  (2000).  Multiple measurements of depression predict mortality in a longitudinal study of chronic hemodialysis outpatients.  Kidney International, 57, 2093-2098.

Sotsky, S.M., Simmens, S.J. (1999).  Diagnostic Validity and Pharmacotherapy Response in Atypical Depression.  Journal of Affective Disorders,  54, 237-247.
Reiss, D., Hetherington, E.M., Plomin, R., Howe, G.W., Simmens, S.J., Henderson, S., O'Connor, T., & Bussell, D.  (1995).  Genetic questions for environmental studies:  Differential parenting of siblings and its association with depression and antisocial behavior in adolescents.  Archives of General Psychiatry, 52, 925-936.