Undergraduate Advising
Your Academic Advisor is here to guide you through your undergraduate degree at the Milken Institute School of Public Health. While students are responsible for determining their schedule and meeting all degree requirements, academic advisors can help you:
Prepare a 4 year plan

Collaborate with Study Abroad to plan a semester in another country

Check your progress toward graduation

Explain GW policies, procedures, and forms surrounding registration, withdrawal, transfer credits, etc.
Your Academic Advisor can help you assess your options, but students are responsible for their final decisions regarding their interests, goals, and degree completion.  For more information about academic resources at GW, including tutoring,study space, and textbook access, please visit the Academic Commons  website or talk to the Academic Commons staff at Gelman Library.
We Expect You to ROCK!
Your Academic Advisor is here to support you and assist with the following, but your GW academic success is a shared responsibility!
Research: your degree, GW policies, potential major/minor options, study abroad programs, post-graduate opportunities, and prerequisites (did you Google it before you asked us?)
Outline: your semesterly schedule, your 4 year plan, and your post-grad plans
Communicate: at least once a semester with your advisor, by responding within 48 hours to emails, with your professors with questions and concerns
Keep track: of your goals and your degree completion, assignments and academic responsibilities, and non-academic requirements for graduation (integrity quiz, CITI training, professional enhancement). 
For instructions on how to access and complete the CITI Training, please follow these guidelines.
 
Academic Advisors
We are located at 950 New Hampshire Ave, NW (the Milken Institute School of Public Health) in the 2nd Floor Office Suite.

Undergraduate Advising
Procedures
GWSPH advisors are generally available Monday through Friday from 9am-5pm.

As a two-person team, we do not have the capacity for drop-in hours. Our meetings are by appointment only.

Students should make every effort to reschedule or cancel an appointment 24 hours prior to their booking time. Students who miss a scheduled appointment 2 or more times in an academic year will have a registration hold placed on their accounts. The hold will not be removed until the student has met with an advisor in person and discussed their degree plan, as well as a plan to better manage their time.

All forms, quick questions, and Minor questions should be sent to us via email. If we cannot resolve your question or issue via email, we can find a time to meet in person or by phone. Email us at [email protected].

Please note: GWSPH does not use the RTF-EZ. Please fill out the standard RTF (also known as the RTF Classic) and send it to your advisors.

We do our best to respond to emails within 48 hours. Emails will be answered in the order in which they are received.
 
Before Your Appointment
Come prepared with a draft schedule/list of classes, if applicable.

Bring any necessary forms that you need signed or submitted.

Write down your questions!

Cancel or reschedule at least 24 hours in advance to open up that time slot for another student.
Join T.E.A.M Milken!
T.E.A.M. Milken is open to all GWSPH undergraduate majors. Our goal is to provide individualized support to students so you will thrive at GW and be prepared to launch your public health career.
For our Pre-Health Students
Interested in pursuing a health profession and attending a graduate program in the health sciences? Check out the diagram below for who you can talk to along your academic journey!
To contact the Pre-Health Advisors, go to prehealth.gwu.edu
To make an appointment with a Career Coach, go to Handshake at gwu.joinhandshake.com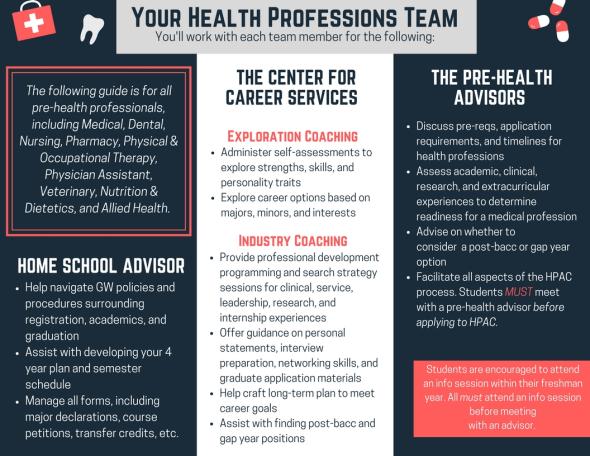 Follow Us on Social Media!