Irene Kuo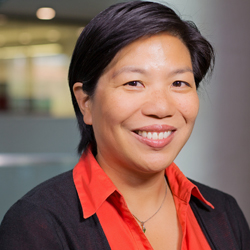 Irene Kuo
M.P.H., Ph.D.
Associate Research Professor
---
School: Milken Institute School of Public Health
Department: Epidemiology
Contact:
Office Phone:
202-994-0367
Milken Institute School of Public Health
950 New Hampshire Avenue, NW , #505
Washington DC 20052
After ten years in the field of drug abuse research in the context of infectious diseases, Dr. Irene Kuo joined GW in 2006. She is also currently project director for the CDC-sponsored National HIV Behavioral Surveillance project, a multi-site research study that focuses on HIV risk-taking behaviors among men who have sex with men, injection drug users and heterosexuals at high risk for HIV using novel sampling techniques, such as respondent-driven sampling and venue-based sampling. Dr. Kuo brings extensive knowledge about HIV/AIDS risk behaviors, hepatitis B and C virus infections, drug-using populations, drug treatment and market factors that affect the HIV risk behaviors of drug users both domestically and internationally.
Dr. Kuo is currently the Principal Investigator for an evaluation of the DC Department of Health's Viral Hepatitis Surveillance Program. Dr. Kuo also currently serves as an evaluator of a routine HIV testing program in the GWU Hospital emergency room as part of the District's city-wide routine HIV testing campaign. Since arriving at GWU, Dr. Kuo has also participated in international projects dealing with the regulatory framework for the WHO-sponsored global guidelines on the ARV scale-up and task shifting in Africa and with the development of a framework to define, enumerate and inventory the global public health workforce through the Rockefeller Foundation.
---
EXPERTISE: 
Epidemiology
HIV/AIDS
Infectious Disease
Prevention
EDUCATION: 
Bachelor of Arts (Economics), Washington University, 1991
Master of Public Health (Epidemiology), Johns Hopkins Bloomberg School of Public Health, 1998
Doctor of Philosophy (Infectious Disease Epidemiology), Johns Hopkins Bloomberg School of Public Health, 2004
COMMUNITY SERVICE: 
Dr. Kuo is a peer reviewer for Journal of Acquired Immunodeficiency Syndrome, Journal of Urban Health, Drug and Alcohol Dependence and the International Journal on Drug Policy. She is a member of the International Harm Reduction Association, the College on Problems of Drug Dependence, International Society for Urban Health, International Harm Reduction Association, and the American Public Health Association.
INSTITUTES AND CENTERS: 
Center for HIV/AIDS Epidemiology, Biostatistics and Public Health Laboratory Research