Mimi Ghosh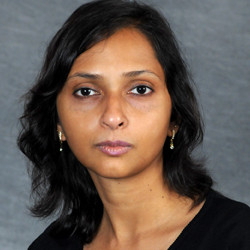 Mimi Ghosh
M.S., Ph.D.
Associate Professor
---
School: Milken Institute School of Public Health
Department: Epidemiology
Contact:
Office Phone:
202-994-5740
Science & Engineering Hall
800 22nd Street, NW
Washington DC 20052
I grew up in Kolkata, India, where my parents still live. After high school I received a scholarship to a tiny college in West Virginia, and decided to come and see America. Small town West Virginia was a bit of a culture shock after Kolkata which is a lively, bustling, and extremely crowded city. But I settled there for a few years and completed my BS and MS. Afterwards I attended the University of Pittsburgh, School of Public Health, where I completed my PhD in Infectious Diseases and Microbiology. My focus at the University of Pittsburgh was characterizing the immune responses that occur in the brain shortly after HIV infection. This was the beginning of my interests in the HIV/AIDS field. Right after my PhD, I moved to Lebanon, New Hampshire (a very beautiful but very cold place) as a post-doctoral fellow in Dartmouth Medical School and started working in the area of HIV transmission in women. I have always been interested in women's rights and women's health issues; but it is at Dartmouth where my life-time research interests sharpened into focus as I figured out how I can use my scientific training to help protect women from HIV/AIDS. However, protecting women is so much more than laboratory science. Women in many cultures do not have the right to negotiate condom use with their partners and husbands and desperately need women-controlled methods to protect themselves against HIV and other sexually transmitted pathogens. During my time at GWU, I have also started to work with other high-risk and at-risk groups including transgender women and men. My goal is to utilize my scientific training to help develop such methods that will help and empower vulnerable populations. 
When I am not working, I am reading! I am a voracious reader and gobble up just about every topic under the sun. My apartment suffers from a constant overflow of books and many have to be stored in my pantry!
---
EXPERTISE: 
HIV/AIDS
Reproductive Health
Immunology
Women's Health
Underserved Populations
EDUCATION: 
Bachelor of Science (Molecular Biology/Biotechnology), Salem-Teikyo University, 1995
Master of Science, (Molecular Biology/Biotechnology), Salem-Teikyo University, 1999 (Currently Salem International University)
Doctor of Philosophy (Infectious Diseases and Microbiology), University of Pittsburgh Graduate School of Public Health, 2005
Post-Doctoral Fellowship, Dartmouth Medical School, 2005-2011
TEACHING: 
Co-Director, Masters of Science in Public Health Microbiology and Emerging Infectious Diseases Program (MS PHMEID)
PubH 6278 Public Health Virology (Course Director)
MICR 8210 Infection and Immunity (Course Co-Director)
COMMUNITY SERVICE: 
Dr. Ghosh is a member of the American Society for Reproductive Immunology, the International AIDS Society and the International Society of Reproductive Immunology. A committed volunteer, she is the Co-founder and Chief Administrative Officer of International Konditi Development Initiative (I-KODI), a non-profit organization that supports basic educational and health-care needs in an impoverished community in rural Kenya where the prevalence of HIV is particularly high. As a member of the Dartmouth College International Students Program, Ghosh taught basic English, American culture and survival skills to international scholars and spouses in the Upper Valley Region in New Hampshire.
RESEARCH: 
Dr. Ghosh's research interests are broadly focused in the area of reproductive immunology. She studies HIV acquisition/transmission, specifically focusing on the mucosal immune responses and hormonal regulation. She is interested in working with vulnerable populations and currently has projects that involve post-menopausal women, adolescent girls, female sex workers, women who have experienced sexual violence and transgender women and men. Professor Ghosh is specifically interested in the translational public health aspects of HIV/AIDS that can lead to the development of preventative and therapeutic interventions.
PUBLICATIONS: 
Publications (Last 5 years)