Matthew Barberio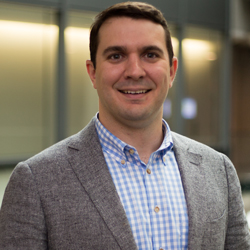 Matthew Barberio
Assistant Professor
---
School: Milken Institute School of Public Health
Department: Exercise and Nutrition Sciences
Contact:
Office Phone:
202-994-1408
800 22nd St NW, Office 7830
Dr. Barberio is an Assistant Professor in the Department of Exercise and Nutrition Sciences and a Special Volunteer in the Children's Research Institute at Children's National Medical Center. Dr. Barberio joined the Milken Institute School of Public Health as a Professorial Lecturer in the Spring of 2014 and transitioned to a tenure-track Assistant Professor position in July of 2018. Prior to joining the Milken Institute School of Public Health, Dr. Barberio earned his PhD in Kinesiology-Exercise Physiology at Auburn University in May of 2013 before moving to Washington, D.C. as Postdoctoral Fellow in the Center for Genetic Medicine Research at Children's National. While a Postdoctoral Research Fellow he was funded on an NRSA T32 Training Fellowship (Genomics of Skeletal Muscle) and an Individual American Heart Association Postdoctoral Fellowship.
Dr. Barberio's research efforts are concentrated on understanding how molecular and epigenetic changes in adipose tissue during the development of metabolic syndrome, and associated comorbidities, result in peripheral tissue (macrophages and skeletal muscle) dysfunction. He is interested in how lifestyle interventions (nutrition, weight-loss surgery, pharmacological, and physical activity) can prevent or reverse these changes. Dr. Barberio's laboratory utilizes a translational approach that includes combining human intervention studies with molecular and cell culture experiments.
---
Exercise Science
Obesity
Chronic Disease
Bachelor of Science in Health and Human Performance – Fairmont State University (2008)
Masters of Education in Kinesiology – Auburn University (2009)
Doctor of Philosophy in Exercise Physiology – Auburn University (2013)
PUBH 2110 – Public Health Biology
EXNS 3111 – Nutrition Science Research Methods
PUBH 6001 – Biological Concepts in Public Health
Current Research Projects:
Adipocyte Derived Exosomal microRNAs in the Reegulation of Macrophage Cholesterol Efflux Capacity

CTSI-CN Discovery Pilot Award: 5UL1TR001876 (6/19 - 5/20)

The Effect of Exercise Intensity on Macrophage Cholesterol Efflux Capacity and Cholesterol Efflux Gene Expression 
Skeletal Muscle DNA Methylation and Gene Expression Prior to and Following Bariatric Weight Loss: Influence of Diabetes
Visceral Adipose Tissue DNA Methylation and Gene Expression: Influence of Gender, Ethnicity, and Obesity Status
Maternal-Infant Transfer of Adipogenic Signals: Role of Maternal Adipocyte-derived Exosomes (In Collaboration with King Edwards Memorial Hospital – Diabetes Unit – Pune, India)
Smith ER, He S, Klatt KC, Barberio M.D., Rahnavard A, Azad N, Brandt C, Harker B, Hogan E, Kucherlapaty P, Moradian D, Gernand AD, Ahmadzia HK. Limited data exist to inform our basic understanding of micronutrient requirements in pregnancy. Sci Adv. 2021 Oct 22;7(43):eabj8016. doi: 10.1126/sciadv.abj8016. Epub 2021 Oct 22. PubMed PMID: 34678054; PubMed Central PMCID: PMC8535830.
Barberio M.D., Dohm GL, Pories WJ, Gadaleta NA, Houmard JA, Nadler EP, Hubal MJ. Type 2 Diabetes Modifies Skeletal Muscle Gene Expression Response to Gastric Bypass Surgery. Front Endocrinol (Lausanne). 2021;12:728593. doi: 10.3389/fendo.2021.728593. eCollection 2021. PubMed PMID: 34690929; PubMed Central PMCID: PMC8526857.
Klatt KC, Smith ER, Barberio M.D.. Toward a more stable understanding of pregnancy micronutrient metabolism. Am J Physiol Endocrinol Metab. 2021 Aug 1;321(2):E260-E263. doi: 10.1152/ajpendo.00156.2021. Epub 2021 Jun 21. Review. PubMed PMID: 34151584.
He S, Klatt KC, Rahnavard A, Barberio M.D., Gernand AD, Smith ER. Protocol for meta-research on the evidence informing micronutrient dietary reference intakes for pregnant and lactating women. Gates Open Res. 2020;4:171. doi: 10.12688/gatesopenres.13199.1. eCollection 2020. PubMed PMID: 33629039; PubMed Central PMCID: PMC7876347.
Barberio M.D., Nadler EP, Sevilla S, Lu R, Harmon B, Hubal MJ. Comparison of visceral adipose tissue DNA methylation and gene expression profiles in female adolescents with obesity. Diabetol Metab Syndr. 2019;11:98. doi: 10.1186/s13098-019-0494-y. eCollection 2019. PubMed PMID: 31798691; PubMed Central PMCID: PMC6881970.
Barberio, M.D., Kasselman, L.J., Playford, M.P., Epstein, S.B., Renna, H.A., DeLeon J., Voloshyna, I., Barlev, A., Salama, M., Ferrante, S., Nadler, E.P., Mehta, N., Reiss, A.B., & Freishtat, R.J. Cholesterol Efflux Alterations in Adolescent Obesity: Role of Adipose-derived Exosomal microRNAs J Transl Med PMID 31331347
Boehler, J.F., Hogarth, M.W., Barberio, M.D., Ghimbovschi, S., Brown, K.J., Munters, L.A., Loell, L., Chen, Y.W., Alexanderson, H., Lundberg, I.E., Nagaraju, K. Regulation of skeletal muscle inflammation by microRNA in myositis patients after endurance exercise. PLOS ONE. Aug 22;12(8), 2017 PMID: 28829792
Hubal, M.J., Nadler, E.P., Ferrante, S.C., Barberio, M.D., Suh, J.H., Wang, J.H., Dohm, G.L., Pories, W.J., Mietus-Snyder, M., Freishtat, R.J. Circulating Adipocyte-Derived Exosomal MicroRNAs Associated With Decrease Insulin Resistance After Gastric Bypass. Obesity. 25(1): 102-110, 2017. PMID: 27883272
Barberio, M.D., Huffman, K.M., Giri, M., Hoffman, E.P. Kruas, W.E., & Hubal, M.J. Exercise PDPR Gene Expression Correlates with Exercise-Training Insulin Sensitivity Changes. Medicine & Science In Sports & Exercise. 48(12):2387-97, 2016. PMID: 27846149
Laird, R.H., Elmer, D.J., Barberio, M.D., Salom, L.P., Lee, K.A., Pascoe, D.D. Evaluation of performance improvements following either resistance training or sprint interval based concurrent training. Journal of Strength and Conditioning Research. 30(11):3057-65, 2016. PMID: 26950345
Elmer, D.J., Laird, R.H., Barberio, M.D., Pascoe, D.D. IL-6, CRP, and Lipid Response to interval training or moderate aerobic training. European Journal of Applied Physiology. 116(3):601-9, 2016. PMID: 26721463
Barberio, M.D., Elmer, D.J., Laird, R.H., Lee, K.A., Gladden, L.B., Pascoe, D.D. Systemic LPS and Inflammatory Response to Consecutive Days of Exercise In the Heat. International Journal of Sports Medicine, 36 (3):262-70, 2015. PMID: 25525952
McGinnis, G., Kliszczewicz, B., Barberio, M., Peters, B., Ballmann, C., Ruby, B., Dumke, C., Cuddy, J., Slivka, D., Quindry, J.C. Acute Hypoxia and Exercise-Induced Blood Oxidative Stress. International Journal of Sport Nutrition and Exercise Metabolism. 24(6) 2014. PMID 24667140
Pascoe, D.D., Barberio, M.D., Elmer, D.J., Laird, R.H. Potential Errors in Mean Skin Temperature Calculation Due To Thermistor Placement As Determined By Infrared Thermography, Thermography International, 22, 2012.
Fisher, G., Schwartz, D.D., Quindry, J., Barberio, M.D., Foster, E.B., Jones, K.W., & Pascoe, D.D. Oxidative Stress and Antioxidant Defense Responses in Lymphocytes Following High Intensity Interval Training. Journal of Applied Physiology, 110(3):730-7, 2011. PMID: 21127208
https://www.ncbi.nlm.nih.gov/myncbi/matthew.barberio.1/bibliography/public/