Tamara A. Henry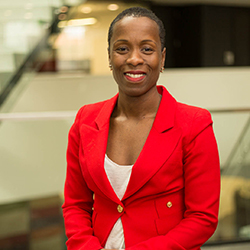 Tamara A. Henry
Ed.D.
Teaching Associate Professor
---
School: Milken Institute School of Public Health
Department: Prevention and Community Health
Contact:
Office Phone:
202-994-8132
950 New Hampshire Avenue, Office: Suite 300
Washington DC 20052
Dr. Tamara A. Henry serves as a Teaching Associate Professor in the Department of Prevention and Community Health. She currently teaches at the undergraduate and graduate level. To date, she has received 2 awards from GW for Excellence in Teaching Undergraduate Public Health. She is also an inaugural member of the Master Teaching Academy.
Prior to academia, Dr. Henry spent over a decade in state (NJ Department of Health and Senior Services) and local government (DC Department of Health) providing
grantees with technical assistance as well as addressing health disparities and monitoring and evaluating health promotion programs in underserved populations.
In addition, as a consultant, Dr. Henry conducted the Maternal Child Health needs assessment (2014) for the DC-DOH Community Health Administration and more recently designed and implemented a substance use disorder curriculum for the DC Department of Corrections/ CTF male/female inmates from 2015-2018. As well, she designed and implemented a Social Determinants of Health curriculum to address the opioid crisis for the Maryland Department of Health (2019). Other consutlancies include working with nonprofit entities that serve African Americans such as the NAACP, NCNW and CBCF on a variety of health related matters. Internationally, Dr. Henry has worked in Capetown, South Africa and her native country of Jamaica, W.I on matters related to HIV and sexuality.
Dr. Henry remains passionate about social justice, education, and public health and she uses her platform to creatively engage students and the community to think outside the box.
---
HIV/AIDS
Prevention
Health Disparities
Population Health
Social Determinants of Health
Bachelor of Science (Biology) Howard University, 1998
Master of Arts (Health Education) Teacher's College at Columbia University, 2002
Doctor of Education (Health Education and Health Behavior) Teacher's College at Columbia University, 2006
Introduction to Public Health-1101
Human Sexuality-1109
Principles of Health Education and Health Promotion-2112
Senior Seminar- 4140W
Social and Behavioral Approaches to Health-6007
Dr. Henry is an active volunteer for Food and Friends in Washington, DC. 
Dr. Henry serves on the Steward Board of Kingdom Fellowship AME in Silverspring, MD.
Dr. Henry serves as a mayoral appointed commisioner for the Commission on Fathers, Men and Boys in Washington, DC.
Dr. Henry serves as Vice Chair for the North Capitol Main Street Board in Washington, DC
Dr. Henry's research focuses on sexual risk behavior of African American adolescent and college aged girls.