Marinella Temprosa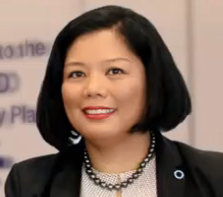 Marinella Temprosa
M.S., Ph.D.
Associate Research Professor
---
School: Milken Institute School of Public Health
Department: Biostatistics and Bioinformatics
Contact:
Office Phone:
301-881-9260
Biostatistics Center. 6110 Executive Blvd, Rockville, MD 20852
Dr. Ella Temprosa is an Associate Research Professor at the Department of Biostatistics and Bioinformatics. Her research projects have focused on Phase 3 NIH-sponsored multi-center clinical trials for more than 25 years at the Biostatistics Center, a research center at the George Washington University. She is the Principal Investigator of the Biostatistics Research and Coordinating Center for the NIDDK-sponsored landmark study, Diabetes Prevention Program and its Outcome Study since 2013 and as biostatistician/ investigator since 1998. Her research interests include various aspects of clinical trial design, conduct and analyses as well as data visualization, longitudinal data analysis and missingness. Throughout her research career, she continues to enjoy the confluence of the technical, scientific, and public health aspects of collaborative studies in the areas of diabetes, cardiovascular disease, cancer, and obesity with major focus on novel markers such as adipocytes, cytokines, lipid subfractions, inflammation, endothelial dysfunction and more recently metabolomics.  More recently, she is leading the data management efforts in the DC HIV cohort where she hopes to make the use of EHR data streams more robust for monitoring and analyses in order to explore the intersection of HIV and diabetes.
---
EXPERTISE: 
Biostatistics
Chronic Disease
Epidemiology
Obesity
Aging
Maternal and Child Health
Prevention
Population Health
TEACHING: 
PubH 6002 Biostatistical​ Applications for Public Health (Spring 2015 Online)
This is an introductory course in the application of biostatistical principles to the critical analysis of retrospective studies, prospective studies, controlled clinical trials, and studies in the health services literature. This course focuses on the logical basis of biostatistical methods and addresses how to select an appropriate statistical method based on given data, perform calculations of basic statistical procedures for estimation and inference, and interpret the results of statistical analysis. Among the topics covered are multinomial experiments, contingency table analysis, correlation, linear regression, analysis of variance, analysis of covariance, and logistic regression.
PubH 6299 Visual Exploration of Public Health Data (Every Fall since 2015)
This 1 credit, 7 week  elective course will delve into the principles and best practices in the exploratory data analysis, design and visualization of statistical information using public health data. We will use Tableau as the visualization tool and Alteryx Designer as the data manipulation tool with licenses given through their education licensing program. This applied, hands-on course will cover the analysis pipeline from question formulation and data preparation and exploration, to graph design, inference and communication of results.  Topics will include the design components of graphs and tables, the critical assessments of graphical displays, and the role of cognitive factors.  Exploration of various types of data such as geographic, time series and text analytics are used. By the end of the course, students will have acquired skills to explore data responsibly and effectively, compose compelling stories and use graphs to communicate data insights.  No programming skills required. 
INSTITUTES AND CENTERS: 
RESEARCH: 
D.C. COHORT LONGITUDINAL HIV STUDY 
The DC Cohort is a longitudinal research project that will collect clinical data more than 10,000 consenting HIV-infected outpatients receiving care at fifteen large treatment clinics in the District of Columbia. The DC Cohort is sponsored by the National Institute of Allergy and Infectious Diseases (NIAID) of the National Institutes of Health (NIH). Website: https://publichealth.gwu.edu/projects/dc-cohort-longitudinal-hiv-study
DIABETES PREVENTION PROGRAM OUTCOMES STUDY 
The Diabetes Prevention Program (DPP), funded by the National Institute of Diabetes and Digestive and Kidney Diseases (NIDDK)  and conducted at 25 centers nationwide, was a landmark trial to show that lifestyle changes or metformin can effectively delay diabetes in a diverse population of overweight or obese American adults at high risk of diabetes in the short term and long term compared to placebo. Website: http://www.dppos.org
CONSORTIUM OF METABOLOMICS STUDIES
The COnsortium of METabolomics Studies (COMETS) is an NIH Common Fund sponsored extramural-intramural partnership that promotes collaboration among prospective cohort studies that follow participants for a range of outcomes and perform metabolomic profiling of individuals. Website: http://epi.grants.cancer.gov/comets/