Adnan Hyder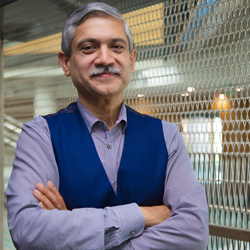 Adnan Hyder
Professor and Senior Associate Dean for Research
---
School: Milken Institute School of Public Health
Department: Global Health, Office of the Dean
Contact:
Dr. Adnan Hyder is Senior Associate Dean for Research and Professor of Global Health at the Milken Institute School of Public Health of George Washington University. Previously, Dr. Hyder served as the Associate Chair of the Department of International Health and Director of the Health Systems Program at the Johns Hopkins Bloomberg School of Public Health. He was also previously Associate Director for Global Programs at the Johns Hopkins Berman Institute of Bioethics and founding Director of the Johns Hopkins International Injury Research Unit.
For over 20 years, Dr. Hyder has worked to improve global health in low- and middle- income countries across Africa, Asia, Latin America, and the Middle East; and pioneered empirical work around health systems, ethics, and injury prevention in the developing world. He has conducted studies focusing on defining the epidemiological burden, understanding risk factors, exploring potential interventions, estimating economic impact, and appreciating the socio-cultural correlates of non-communicable diseases around the world. He has studied health systems constraints, biomedical ethics, participated in trainings of thousands of health professionals, defined the loss of healthy life years, and explored issues of health policy development. Dr. Hyder has co-authored over 300 scientific peer-reviewed papers and numerous world reports on road safety, child injuries, and health systems. Dr. Hyder received his M.D. from the Aga Khan University, Pakistan and obtained his MPH and Ph.D. in Public Health from Johns Hopkins University, USA.
---
Global Health
Hospitals and Health Systems
Prevention
Children's Health
Epidemiology
Doctor of Medicine, The Aga Khan Unviersity School of Medicine, Pakistan. 1990
Masters in Public Health (International Health), Johns Hopkins Bloomberg School of Public Health, USA. 1993
Doctor of Philosophy (Health Systems), Johns Hopkins Bloomberg School of Public Health, USA. 1998
Selected publications of over 300 peer reviewed papers. 
Pratt B, Sheehan M, Barsdorf N, Hyder AA. Exploring the ethics of global health research priority-setting. BMC Med Ethics. 2018 Dec;19(1):94. 
Mehmood A, Ahmed Rowther A, Kobusingye O, Hyder AA. Assessment of pre-hospital emergency medical services in low-income settings using a health systems approach. International Journal of Emergency Medicine. 2018 Dec.
Hyder AA. Measurement is not enough for global road safety: implementation is key. Lancet Public Health. 2018 Dec.
Li Q, Peng J, Chen T, Yu Y, Hyder AA. Seatbelt wearing rate in a Chinese city: Results from multi-round cross- sectional studies. Accident Analysis & Prevention. 2018 Dec; 121:279-284.
Mehmood A, Agrawal P, Allen KA, Al-Kashmiri A, Al-Busaidi A, Hyder AA. Childhood injuries in Oman: retrospective review of a multicentre trauma registry data. BMJ Pediatric Open. 2018 Nov. 2018;2(1):e000310. 
Pratt B, Hyder AA. Priority Setting Is More Than Resource Allocation: Reflecting on the Content of Funders' Duties and Their Implications for Current Practice. The American Journal of Bioethics. 2018 Nov; 18:11, 27-30.
Yakubu A, Hyder AA, Ali J, Kass N. Research Ethics Committees in Nigeria: A survey of operations, functions and needs. IRB: Ethics & Human Research. 2017;39(3):11-19.
Bachani AM, Taber N, Mehmood A, Hung YW, Botchey I, Al-Kashmiri A, Hyder AA. Adolescent and Young Adult Injuries in Developing Economies: A comparative Analysis from Oman and Kenya. Ann Glob Health. 2017 Sep – Dec; 83(5-6):791-802.
Alonge O, Agrawal P, Meddings D, Hyder AA. A systematic approach to injury policy assessment: introducing the assessment of child injury prevention policies (A-CHIPP). Inj Prev. 2017 Nov 3; pii: injuryprev-2017-042576.
Rattani A, Hyder AA. Developing an Islamic Research Ethics Framework. J Relig Health. 2017 Oct 20.
Mehmood A, Chan E, Allen K, Al-Kashmiri A, Al-Busaidi A, Al-Abri J, Al-Yazidi M, Al-Maniri A, Hyder AA. Development of an mHealth trauma registry in the Middle East using an implementation science framework. Glob Health Action. 2017;10(1):1380360.
Ndebele P, Hyder AA. Ethical Issues in Health Systems Research in Low and Middle-Income Countries. Dev World Bioeth. 2016, Dec;16(3):122-123