Amita N. Vyas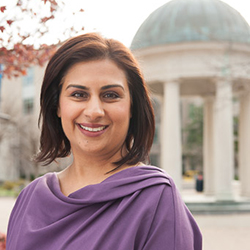 Amita N. Vyas
Professor
---
School: Milken Institute School of Public Health
Department: Prevention and Community Health
Contact:
Office Phone:
202-994-3695
950 New Hampshire Avenue, Office: 315 - Floor 3
Washington DC 20052
Amita N. Vyas, PhD, MHS, is a tenured Associate Professor at the George Washington University (GW) School of Public Health and Director for the MPH Maternal and Child Health program and the Center of Excellence in Maternal and Child Health. Dr. Vyas also serves as the Editor-in-Chief of Women's Health Issues; she is the Founder of the Global India Fund; an Executive Member and co-founder of the State Department's U.S.-India Alliance for Women's Economic Empowerment; and a Non-Resident Senior Fellow at the Atlantic Council. In 2014, Dr. Vyas joined Girl Rising and Co-Produced the Girl Rising India film and served on its Board of Directors until 2020. 
At the age of 20, Amita journeyed to Calcutta, India to work alongside Mother Teresa in the Missionaries of Charity. In one eye-opening summer, she was immersed in the relationship between health, education, and social inequities affecting vulnerable populations.  From that extraordinary experience, inspired by a simple desire to serve those in need, she decided to pursue a career in public health.  This early experience working alongside suffering and devastation continues to play a role in her teaching, scholarship, practice, and service to communities, and it is through this lens of empathy that she has led efforts to address the health, education, and well-being of women, children, and families locally, nationally, and globally.
Dr. Vyas earned her Masters in Demography at the Johns Hopkins University Bloomberg School of Public Health and then continued her studies at Johns Hopkins earning her doctorate in Population and Family Health Sciences, receiving awards for outstanding academic achievement.  Dr. Vyas' research has primarily focused on the health and well-being of adolescent girls and women, and she has led countless large scale intervention and research studies in the U.S, India, Morocco, Bangladesh, South Africa, and Peru. Dr. Vyas is the recipient of several awards including the George Washington University Bender Teaching Award; the 2013 National Delta-Omega Honor Society Award for Innovative Curriculum; the 2019 Student Supervisor of the Year Award for universities in the Northeast; and was selected for the Impact Center's National Women's Leadership Fellowship.  
Dr. Vyas resides in Mclean Virginia with her husband and three teenage children. She is a champion for women, children, and families in the United States and globally. 
---
Maternal and Child Health
Prevention
Program Evaluation
Reproductive Health
Women's Health
Community Health
Global Health
Bachelor of Science in Biological Sciences, University of Connecticut, 1994
Master of Health Science in Demography, Johns Hopkins University School of Hygiene and Public Health, 1995
Doctor of Philosophy in Population Dynamics, Johns Hopkins University Bloomberg School of Public Health, 2001 
PubH 6551: Maternal & Child Health II: Advanced MCH Research 
PubH 6501: Program Evaluation 
Girl Rising, Producer, Vice Chair, Chair, 2014 - 2020
Girl Rising is a global campaign for girls' education and empowerment. In 2013, the film, Girl Rising, launched showcasing the lives of nine young girls from nine different countries around the world who overcame barriers to their education. The film's narration encourages viewers to understand that the solution to poverty, childhood marriage, war and conflict, and natural disasters is to educate a girl. Since its inception, the film has been transformed into a campaign, utilizing the power of storytelling to inspire, shift attitudes, and change behavior amongst girls and communities. Girl Rising has launched numerous campaigns to bring visibility to the issues girls face and inspire people to make change and break these barriers. By uniting celebrities, global leaders, and media influences to act as a collective effort/voice of positive change for girls. In 2014, Dr. Vyas, in partnership with Priyanka Chopra and Freida Pinto a national Girl Rising media campaign in partnership with the Government of India, reaching 400M+ viewers via television, theaters, and social media.
Global India Fund (GIF), Founder and President/Board of Directors, 2007 –
https://globalindiafund.org/about-us/
Global India Fund (GIF) was founded in 2007 to give people around the world an opportunity to make a difference in India. The idea to develop the Global India Fund evolved in March 2007, as GIF founder Dr. Amita Vyas joined Ashley Judd, Kate Roberts, and YouthAIDS to India to film a documentary about the calamitous health situation in India in collaboration with the National Geographic Channel. The mission of Global India Fund is to inspire global philanthropy and service by supporting innovative game-changing non-profit organizations and programs. We change the way people give by providing secure and transparent giving options to both individual and corporate donors. GIF showcases the work of credible non-profit organizations in India and empowers donors to choose which organizations to support—it is simple, smart, and powerful. Over the last decade, Global India Fund has raised millions of dollars to support programs for girls' education, women's empowerment, prevention of violence against girls and women, public health, and nutrition. In 2021 during the COVID-19 surge in India, GIF raised 1.5M in three weeks, and designed and launched vaccination programs to ensure the equitable distribution of vaccines, particularly among smaller cities and rural communities who are less likely to have access to vaccines and accurate vaccine/COVID-19 information.
Samhita Social Ventures, Mumbai India, Board of Advisors, 2008 –
https://samhita.org/leadership/
Samhita means "collective good" and its mission is to help people and organizations "do good better" by creating symbiotic relationships between those who are bringing about change on the ground and those who have the means and resources to enable that change. Through the "Samhita ecosystem," a credible platform and thought leadership, they enable NGOs, companies, donor agencies, individuals, philanthropists, foundations and researchers to achieve their specific goals and make informed decisions that translate into purposeful action and large-scale social impact. 
Klinkhammer, K.E., Romm, K.F., Kerrigan, D., McDonnell, K.A., Vyas, A.,Wang, Y., Ma, Y., & Berg, C.J. (In press). Sociopolitical, mental health, and sociodemographic correlates of COVID-19 vaccine hesitancy among young adults in 6 US metropolitan areas. Preventive Medicine Reports.
Karen A McDonnell, Amanda D Castel, Amita B Vyas, Nitasha C Nagaraj, Megan Landry (2022). Keeping it close: The role of a Campus COVID Support Team (CCST) in sustaining a safe and healthy university campus during COVID-19. medRxivhttps://doi.org/10.1101/2022.05.01.22274540
Amita N. Vyas, Nitasha C. Nagaraj, Sabrina McCormick, Demeri Seis, Sadie Hagburg. The Power of Storytelling and Media Interventions to Advance Health and Gender Equity: The Girl Rising Case Study. Journal of Humanities and Social Science, Volume 27, Issue 3, Series 1 (March. 2022) 46-56 e-ISSN: 2279-0837, p-ISSN: 2279-0845. doi: 10.9790/0837-2703014656
Manisha Shah, Sarah Baird, Benjamin Avuwadah, Joan Hamory, Jennifer Seager, Shwetlena Sabarwal, Amita Vyas. Improving Mental Health of Adolescent Girls: Causal Evidence from Four Low- and Middle-Income Countries. Journal of Human Resources, Accepted. December 2022.
Amita N. Vyas, Jodie G. Katon, Tracy A. Battaglia, Priya Batra, Liz Borkowski, Kevin D. Frick, Alison Hamilton, Madina Agénor, Ndidiamaka Amutah-Onukagha, Chloe E. Bird, Katy Backes Kozhimannil, Sandraluz Lara-Cinisomo (2022), Advancing Health Equity through Inclusive and Equitable Publication Practices at Women's Health Issues, Women's Health Issues.  https://doi.org/10.1016/j.whi.2022.04.002
Vyas, A.N., Nagaraj, N.C., Teklay, W., Hingorani, R., Luintel, J., Landry, M.M. (2022). Measuring Agency, Voice, and Gender Attitudes Among Adolescents in South Asia. Indian Journal of Youth and Adolescent Health, 8(4): 8-21
Towers, S.A., Gemechu, N.B., Nagaraj, N.C., Landry, M. M., Beane, P.C., Sardon, G.A., Weiss, E.C. Lui, C.M., Park, D.E., Aziz, M., Goldman, L.R., Vyas, A.N., McDonnell, K.A., Castel, A.D., and The George Washington University Campus COVID-19 Support Team. (2022). SARS-CoV-2 Surveillance and Outbreak Response on an Urban American College Campus. Journal of American College of Health (2022).
Nagaraj, N. Landry, M., Hingorani, R., Luintel, J., and Vyas, A. (2022). Adolescents in the time of COVID: Findings from India and Nepal. Adolescents, 2(1): 1-10. DOI: https://doi.org/10.3390/adolescents2010001
Amita Vyas, Hannah Low, Nitasha Nagaraj (2021) Adolescent Girls in Guatemala: Can an Empowerment Program Change Perceptions of Gender Equity, Aspirations, and Communication?. Journal of Public Health International - 4(2):24-33.
Cindy Liu, Amita Vyas, Amanda D. Castel, Karen A. McDonnell, Lynn R Goldman. Implementing Mandatory Testing and a Public Health Commitment to Control COVID-19 on a College Campus, medRxiv 2021.05.30.21258071; doi: https://doi.org/10.1101/2021.05.30.21258071
Vyas AN, Borkowski L, Bird CE, Frick KD, Markus AR, Salganicoff A, Weisman CS. 30 Years of Women's Health Issues. Women's Health Issues. 2021 Jan-Feb;31(1):1-3. doi: 10.1016/j.whi.2020.11.009. 2020 Dec 9. PMID: 33309192.
Asher, S., Nagaraj, N., Vyas A. (2020). How do College Students in India Respond to Gender-Based Violence (GBV)? Journal of Public Health International, 2(1): 27-39. DOI. 10.13302
Amita N. Vyas, G. Malhotra, N. C. Nagaraj & M. Landry (2019) Gender Attitudes in Adolescence: Evaluating the Girl Rising Gender-Sensitization program in India, International Journal of Adolescence and Youth, DOI: 10.1080/02673843.2019.1598450
Nagaraj, N., Vyas, A., Landry, M. (2019). Adolescents' Perceptions of Gender Discrimination in India: Do Perceptions Differ for Boys and Girls? Journal of Public Health International, 2(1): 1-12. DOI: 10.14302/issn.2641-4538.jphi-19-2995
Vyas A, Nagaraj N, Genovese J, Malhotra G, Dubey N, Hingorani R, Manning L. (2020) The Girl Rising 'We Dream, We Rise' Social Media Campaign in India: Reach, Engagement and Impact, Journal of Creative Communications. https://doi.org/10.1177/0973258619878354
Amita Vyas, Breahnna Saunders, Nitasha Nagaraj (2020). A Qualitative Assessment of an Innovative Suicide Prevention and Treatment Approach: Contextual-Conceptual Therapy. Journal of Public Health International, 2(2): 28-41.
Megan Landry, Amita Vyas, Gayatri Malhotra & Nitasha Nagaraj (2019) Adolescents' development of gender equity attitudes in India, International Journal of Adolescence and Youth, DOI: 10.1080/02673843.2019.1590852
Vyas, Amita N.; Landry, Megan M.; Turner, Monique; Douglass, Grace; Wood, Susan F., Adolescent Pregnancy Prevention: Evaluation of the Be Yourself Program, Health Behavior and Policy Review, Volume 5, Number 6, November 2018, pp. 125-138(14).  https://doi.org/10.14485/HBPR.5.6.11
Nagaraj, C.N., Vyas, A., and McDonnell, A.K. (2018). Is there a Link Between Childhood Family Violence & Adult Health? Understanding Family Violence Amongst South Asian American Women. Journal of Immigrant and Minority Health, DOI: 10.1007/s10903-018-0829-z.
Nagaraj N.C., Vyas, A.N., McDonnell, K.A., DiPietro, L. (2017). Understanding Health, Violence, and Acculturation Among South Asian Women in the US. Journal of Community Health, 1-9. DOI. 10.1007/s10900-017-0450-4.
Ellsberg, M., A. Vyas, B. Madrid, M. Quintanilla, J. Zelaya and H. Stöckl. 2017. Violence Against Adolescent Girls: Falling Through the Cracks? Ending Violence in Childhood Global Report 2017. Know Violence in Childhood. New Delhi, India.
Landry MM, Turner M, Vyas A, Wood S (2017).  Social Media and Sexual Behavior Among Adolescents: Is there a link?, JMIR Public Health and Surveillance, URL: http://publichealth.jmir.org/0000/0/e0/  doi:10.2196/publichealth.7149
Landry M, Vyas A, Turner M, Glick S, Wood S. (2015). Evaluation of Social Media Utilization by Latino Adolescents: Implications for Mobile Health Interventions. JMIR mHealth uHealth URL: http://mhealth.jmir.org/0000/0/e0/ doi:10.2196/mhealth.4374
Robertson H, Chaudhary N, Vyas A.  Family Violence and Child Sexual Abuse Among South Asians in the U.S., Journal of Immigrant and Minority Health, In Press (March 2015).
Parrish, Blaine; Vyas, Amita N.; and Douglass, Grace (2015) "Weighting patient satisfaction factors to inform health care providers of the patient experience in the age of social media consumer sentiment," Patient Experience Journal: Vol. 2: Iss. 1, Article 12. Available at: http://pxjournal.org/journal/vol2/iss1/12
Vyas A, Chaudhary N, Ramiah K, Douglasss GK.  "Risk Perceptions, Nutrition, and Physical Activity Among South Asian Women in the U.S.: Does History of Gestational Diabetes Mellitus (GDM) Matter?"  Health Journal, Vol.4, No.12, December 2012
Landry M, Gonzales F, Wood S, Vyas A. New Media Utilization and Sexual Behavior Among Latino Adolescents. Am J Health Behav. 2013;37(3):422-430 DOI: ttp://dx.doi.org/10.5993/AJHB.37.3.15
 
Vyas A, Landry M, Schnider M, Rojas AM, Wood SF.  Public Health Interventions: Reaching Latino Adolescents via Short Message Service and Social Media.  J Med Internet Res 2012;14(4):e99
URL: http://www.jmir.org/2012/4/e99/ doi: 10.2196/jmir.2178 PMID: 22789678
Chaudhary N, Vyas A, Ramiah K. Addressing the Health Needs of South Asians: The Community Perspective. Health Journal. October 2012.